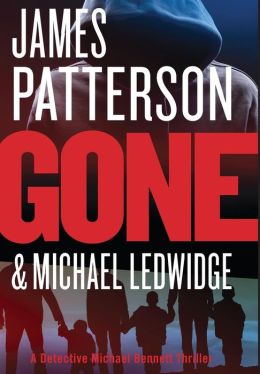 Whoa! That is all I can say about this book. I could not wait for it to come out. In the last Michael Bennett book, Patterson left us all hanging as Michael and his family of 10 adopted children, his Irish nanny, Mary Catherine, and his father who is all so a Father (Catholic priest) Seamus, head for the hills to hide from the ruthless leader of a Mexican drug cartel.
In "Gone", the family has been hiding in California in witness protection for about 8 months and are beginning to get bored. They are literaly, in the middle of nowhere! Needless to say, these tech savy New Yorkers are missing their phones, computers and friends! They are reduced to home schooling and milking cows for fun. When Manuel Perrine, ruthless leader of a drug cartel, declares war on the United States, and Michael Bennett in particular, Michael is called back to work on the task force. It becomes a dangerous race to stop Perrine and his henchmen before they find the Bennett family. Of course, it is a
very
close race. This book is a page turning thriller.
However, it is also graphically violent, so much so that it almost made me ill. When I unlocked my door this morning, I was afraid the cartel was going to come rushing through and behead me. I guess this is the sign of a good book, but I did not appreciate the graphic violence. It is like a horror movie where you keep your eyes closed for the majority of the film. Kind of hard to do with a book. Readers, beware!